Engage, Motivate and Communicate With Customizable Digital Signage Solutions
Attention-grabbing and engaging, digital signage displays are incredibly versatile. Whether your goal is to inform, demonstrate, guide, or sell, our digital signage solutions provide an immersive and interactive real-time experience that will engage your customers and motivate them to act. Our advanced digital signage player technology uses deep integration with 3rd party systems like your CMS, ERP, and CRM, leveraging existing databases of images, schedules, and performance data, all in a streamlined and easily managed solution.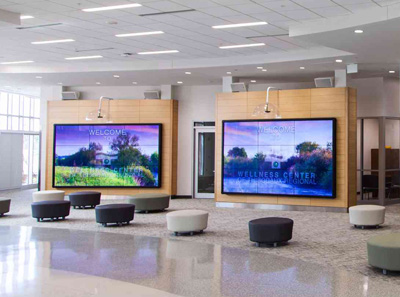 Corporate Digital Signage: Reach employees and visitors with targeted messaging
Affinitech digital signage solutions make corporate communication easier and more effective. From displays and video walls, to kiosks, outdoor digital signage devices, and more, the possibilities for reaching your audience are virtually endless. With digital signage displays installed throughout your building or campus—or even synchronized across multiple national or global locations—our networked solutions ensure everyone receives the same message at the same time, in the same way.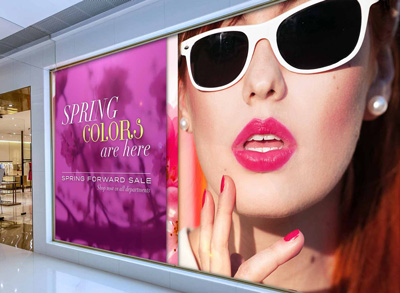 Retail and Point of Purchase: Grab customers' attention and drive sales
Generating excitement is key to promoting your products and services. With digital signage displays, you can improve brand awareness, attract attention, engage your audience, and turn your messaging into sales. At Affinitech, we use the most advanced hardware and software technologies like RFID and motion detection to help you deliver your custom content, enhance the customer experience, and motivate your customers to buy.
Restaurant Menu Boards: Update and manage your menus in real time
Menus often change based on the time of day or day of the week. That's why it's so important to have the power to create and update your digital signage on the fly. With Affinitech's digital signage solutions, you can instantly update and tie your displays to your point-of-sale system to synchronize pricing and centralize your product information. Most importantly, our digital menu solutions are dynamic, allowing you to feature your key products, up-sell, cross-sell, and drive sales across all locations.
Public Digital Signage: Display, Message, Communicate
When it comes to communicating information, no other medium is more flexible or easy to manage than digital signage. With endless options and configurations, your viewers will get the message—from public announcements, to schedule updates, to sporting events, to weather updates and more. Digital signage displays make it easy for you to customize and deliver specific content to your audience in clear, colorful, dynamic ways.
We Operationalize Digital Signage